3ds Max .X File Exporter
I'm glad to announce AXE v1.9.7, a new version of X-File exporter for 3ds Max.&nbsp Editable Patch animation and CAT skeletal system is now fully supported!
The Free Edition includes all the features in the Pro Edition except several options. If you find it useful, any donation would be greatly appreciated!
I welcome any feedback on the plugin as well as any suggestions or corrections you think should be made. &nbspFeel free to post comments here.
Overview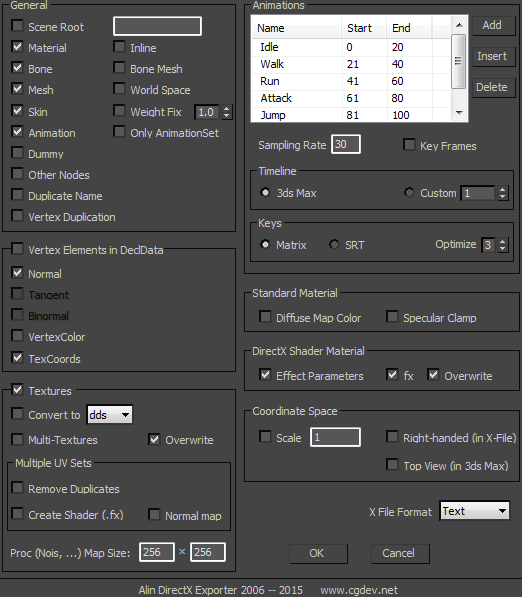 Installation
Unzip and copy the dle file into the plugins directory of 3ds Max.
e.g.: C:\Program Files\Autodesk\3ds Max 2013\plugins
Note that the plugins path may be different if you have installed 3ds Max to a location other than the default.
Usage
Setup your scene in 3ds Max, and then choose Export from the File menu.
Click the 'Save as type' dropdown list where you will find Alin's DirectX Exporter. Select the output directory and file name, then press OK.&nbsp The configuration dialog will appear, which control how the scene data will be converted from 3ds Max to .x file.
Click OK when you finish the configuration.